Best Garment Steamers/Vertical Irons in India – 2023 Buying Guide
Table could not be displayed.
We all love wearing polished and smooth clothes throughout the day, whether we're home, at school, or on the job. This makes steaming a very important process in our lives. To leave a good impression on people who meet you, it's always important to dress nicely and look as tidy as possible.
This is why a proper garment steamer can help you. Since the competition is stronger than ever, choosing a proper one by yourself is time-consuming and hard to do.
For that reason, we've come up with a list of the top 5 best garment steamers in India, in hope that you'll buy a proper garment steamer much easier.
Best Garment Steamers in India 2023
1. Russell Hobbs RGS1500-PRO


Russel Hobbs RGS1500-PRO is an ultimate garment steamer. It's great for an average user but it's also great for professional users, for those who work at hotels or need to steam clothes daily. The reason we've put this steamer on the first spot is its versatility and flexibility, meaning that it can be used in different modes.
For example, it has two thermostats that allow you to independently vary the temperature for both lower and higher heating elements. The telescopic pole is also adjustable, so you don't need to use the full length if you don't need it. Speaking of length, it comes with a 6.5ft power cord, which is a massive step in the right direction.
The maintenance is also hassle-free, thanks to the drain plug for self-cleaning. When the water runs out, the steamer uses its auto shut-off feature, making it energy-efficient and great for those who want to save on electricity. With a heating time of 45 seconds and a tank capacity of 1.6 liters, you can now steam continuously for 45 minutes.
2. Philips GC504/35


Philips is a brand that needs no special introduction. These guys know what they do, which is proven by GC504/35 garment steamer that packs a hell of a punch for the price. Speaking of its punch, let's mention the 1600 W power, which is more than enough for high-quality and thorough steaming of your clothes.
With more than a hundred positive reviews on Amazon, this steamer quickly gained love from the Indian customers. Its design is sleek, elegant, and modern, with the performance being outstanding. Due to its high power, it provides constant steam, allowing you to steam the clothes for around 45 minutes straight.
Although elegant, the design is sturdy enough, thus allowing you to use the hose without worrying that you might pull it to the ground. Overall, Philips GC504/35 is an elegant, sturdy, and quality garment steamer.
3. Usha Techne Direct Garment Steamer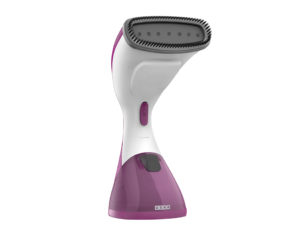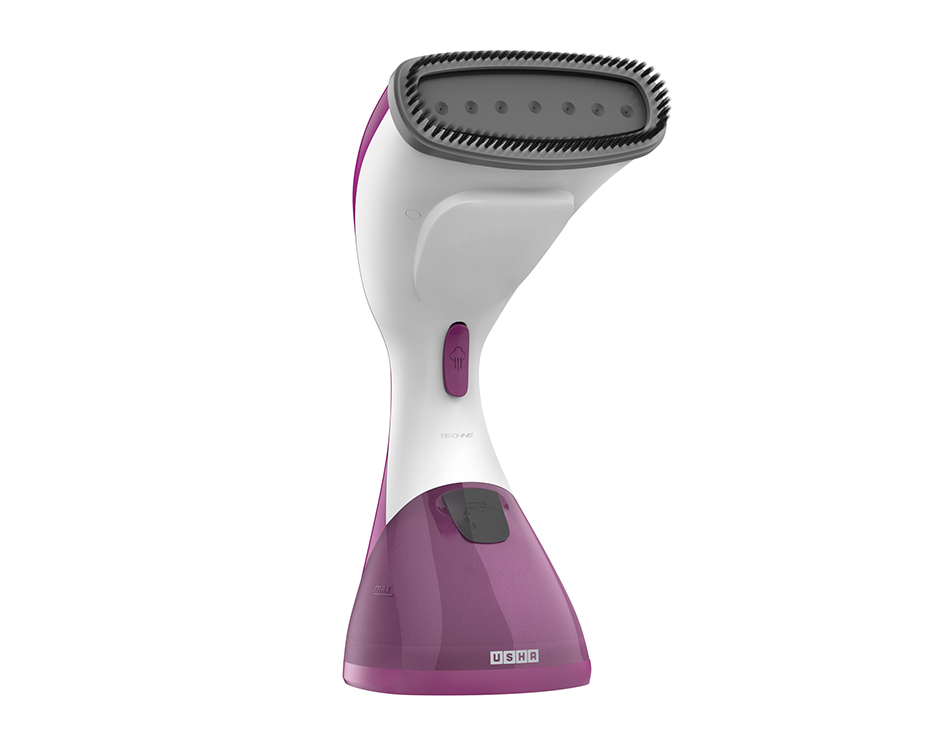 Usha Techne Direct Garment Steamer is a true family garment steamer, able to satisfy the needs of 4 to 5 family members. The steam output of 21 gm/min makes for effective garment steaming, so you won't have to spend a lot of time to make the process noticeable.
As far as the power consumption goes, we are looking at a 1000-Watt steamer, which is the lowest on this list. Still, this shouldn't bother you, as even with negligible power consumption, it manages to be a beast. The steamer also comes with a detachable fabric brush, meaning that you can use only steaming if you don't need to brush your clothes.
The proof that a lot of work has been put into it is in the automatic shut-off technology.
It will shut down the steamer if the overheating happens, making it safe for everyone to use. Your clothes can now get the royal treatment with a press of a button. It's that easy!
4. Black & Decker GST2000-B5


Black & Decker GST2000-B5 is on a more expensive side of the spectrum but the price is almost completely justified. First, we have a 40-second heat time, alongside 3 levels of continuous steam to choose from. All three levels are great for all types of clothes, which is not strange since we're talking about a behemoth-like steamer that packs 2000 Watts of power.
Given its enormous power and size, we have a 2.4-liter water tank coming with a colored level indicator for added convenience. The steamer also comes with lint remover for removing small fibers from the garment, as well as a fabric brush for removing dust and hair.
With all of these convenient features, you'll not regret paying a bit more for a steamer like this.
5. Oster 5011 Garment Steamer

Finally, we have an Oster 5011 Garment Steamer that leaves almost nothing to be desired. This pink beauty packs a lot of power in a relatively compact form factor. With 1600 Watts of power, it provides a steady, constant steam enough for giving your clothes a well-deserved treatment. With a 1.8-liter tank capacity, this steamer isn't great for bigger families but for families of 2 or 3, it's a great steamer to have.
The hose length of 1.5 m isn't that impressive but we can't say anything bad since it's not gigantic as the previous steamer. At the end of the hose, we have a ceramic faceplate used for eliminating odor and wrinkles.
The bristle brush is also here and does a good job of removing dust and pet hair from your clothes. Even the delicate fabrics work well with this steamer, so you won't have to worry about the type of clothes you have. With less than 30 reviews on Amazon, we feel that this steamer is underrated. For the price, it's nothing short of perfection.
6. WisTec Techne Direct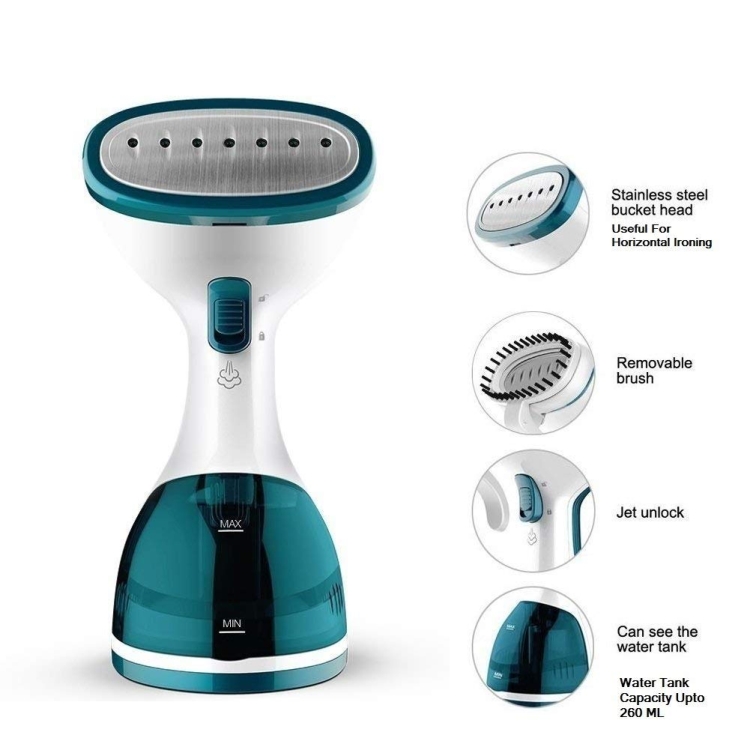 A portable option for those who are on the go, or those who want a smaller appliance in their house. This little steamer is 1000W and can continuously steam for fifteen to twenty minutes with one water filling.
It has a core that will heat up very quickly, and with the 260ml water compartment, you will be able to iron 6 or 7 clothing items depending on the size. It boasts a smart thermostat that will turn off if the appliance gets too hot. Hard water should be avoided tho! It has a smart Jet Lock system that when in place, the device will continuously steam, and it will be easier to use.
You can use vertically or horizontally, and we suggest this device for those on the go. It also has a one-year warranty and a 24/7 support line in India. We like it-s ergonomic shape and the clear see-through water tank.
7. Philips Handheld Garment Steamer GC360/30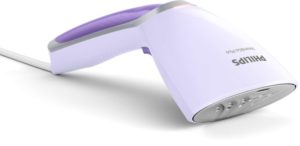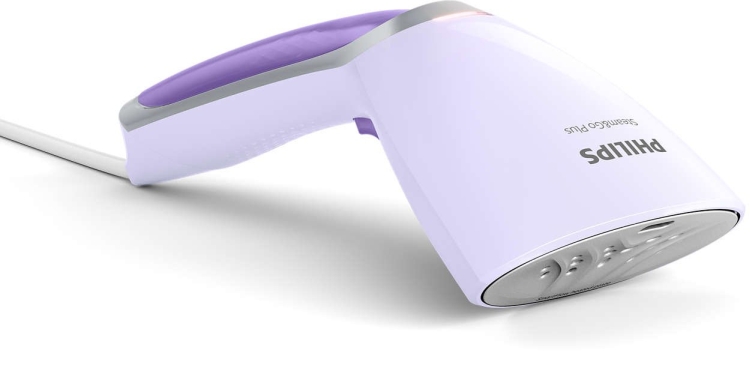 One more device from the tech giant Philips. This one is a bit on the more expensive side, but we are sure you would be getting your money worth. This one has the ability to kill 99 percent of germs with its steam that is powered by 1200 watts. It can be used in a vertical and horizontal fashion to iron your clothes.
It boasts a SmartFlow plate that, in their words, will give you better results. Philips says that with this tech, the plate is suitable for all fabrics, and it will prevent wet spots in your garments.
The water tank is 70ml, and we do think you will need to refill it more than others, but the strong stream of steam will iron out your clothes efficiently. There won't be a need to repeat the process twice. The 2.5m cord will definitely help, and Philips offers a two-year warranty on the device.
They also offer a brush accessory for thicker fabrics, in which case you need the steam to penetrate a bit deeper.
8. Inalsa Garment Steamer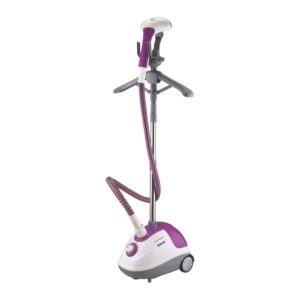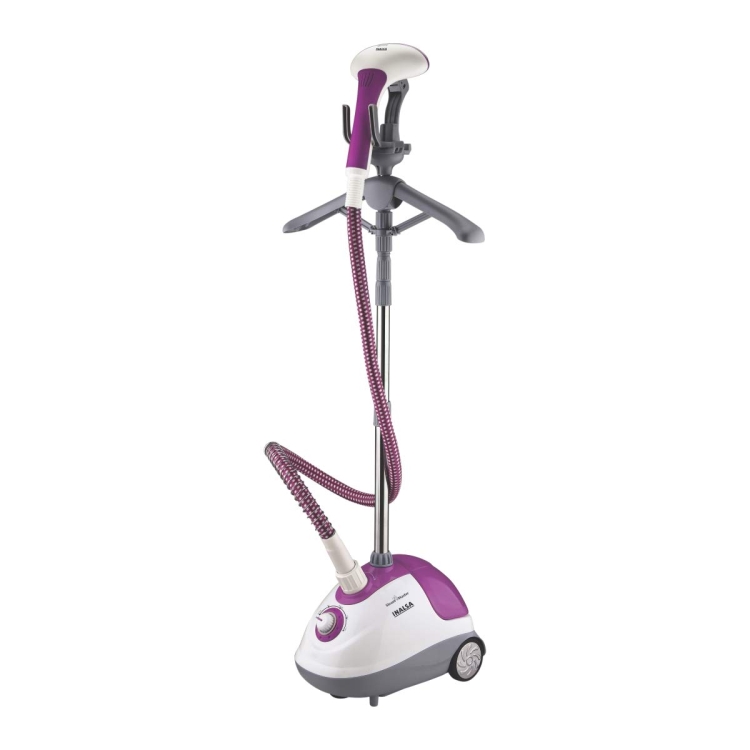 This little appliance boasts 600 watts of power. It heats up quickly, and the design is a bit different than the other similar items on the market. We like it for the detachable big fabric brush and big nozzle. It also has a Dry Boiling Protection and an automatic shut off switch if the temperature gets high.
It is one of the affordable options, but we still think that it is a good choice! It has a tank of 120ml, which should last you long enough before you need to fill it up, and we especially like the measuring line in the front, so you always know how much is in there. With it's easy to use the handle and the easy locking system, we think that you should definitely give it a try.
Garment Steam Iron Buying Guide
These are used as an alternative way of ironing. In our tests, they hold up pretty well, if not better against traditional steam irons. These are more portable than a regular iron, and we do wholeheartedly suggest them for travelers who need a quick way to iron their clothes.
These are perfect for delicate materials like linen and silk, as the steam is much easier on the fabrics. In addition to that, they will eliminate odors, freshen up clothes, and remove any dust or other particles that you wouldn't want on them.
Garment streamers or vertical irons, bigger or smaller, will be a great addition to any home. The smaller models are a great portable option!
Stil, you need to know that these vertical irons are not the end it all option. You won't be able to iron out some thicker clothing like a suit jacket or similar clothing items. The smaller ones especially. The bigger models could work, but you will need to work it and iron it multiple times. Always make sure that you test a small area of the garment, so you don't ruin it with steam.
We hope you know that some items are dry cleaning only!
So why should you be getting a device like this?
A great way to remove wrinkles, faster and easier
You can freshen up your clothes, couches, and mattresses easily
Great for skirts, quilts, pillows or similar items that you can't iron
How to Choose a Garment/Vertical Iron/Steamer
We have three types of steamers:
Full size or floor models
Smaller or compact models
The full-sized ones are the bigger and bulkier that can are used in a plethora of situations where you need to iron or freshen something up. We recommend these for people who will use the device at home and the good thing about it, you can steam your clothes while they are hanging. These usually have a holder for the items.
The smaller portable models are, as said, for those who travel around a lot. If you need your shirt ironed fast in our hotel room, this could be the best option. They don't take too much space, and they give you amazing results.
Warm-up duration?
The main difference between these irons is their warm-up duration. Some can take a long time to warm up so you can use them. They need to build up the heat required to get those wrinkles out.
Some do warm-up super fast, and you can use them super long.
The water in them needs to be boil! So think of that when buying one. Those with a bigger water compartment will, of course, last you longer before you need to refill them.
Wattage = Maximum Temperature?
You will see the different models have different specifications. These are not always interconnected completely. Sometimes a model with a high wattage won't be able to push out a high temperature. Be aware of that when getting one.
In addition to that, those who can manage a really high temperature can kill germs, and this is also one of the positives of the device. It can kill germs and make your whole home cleaner!
Extras?
You can get a lot of extra add-ons for these devices: nozzles, brushes, holders, clips, hoses, hooks, and similar extras.
A significant feature is an automatic shut off function, so you don't burn your house down accidentally. Know that some extra add-ons need to be bought separately!
Check some useful tips that this video has to offer:
Conclusion
If you take proper care of your clothes, a garment steamer is a good piece of tech to have in your household. The fact that you can steam your clothes without the ironing board is a huge plus and is a time-saver for many people.
Now that we've narrowed down your choices, you can use the links from above to buy your new garment steamer.
Take a look at bestselling models available in India right now:
No products found.
Related reviews:
How To Iron A Blazer Or Suit At Home