How To Iron A Blazer Or Suit At Home – 2023 Step-By-Step Guide
Blazer or suit can have an effect on whether you are going for a party, wedding anniversary, reception or you are having a conference meeting, or you are taking an interview. It is fit for all occasions. It goes with all the accessories and provides you with a professional, sober and sophisticated look. It acts as an add-on to your dream style.
Identifying a proper suit or blazer is the first step and maintaining it is the second step. But how to maintain quality is one of the most important steps. Is washing is the only step to maintain?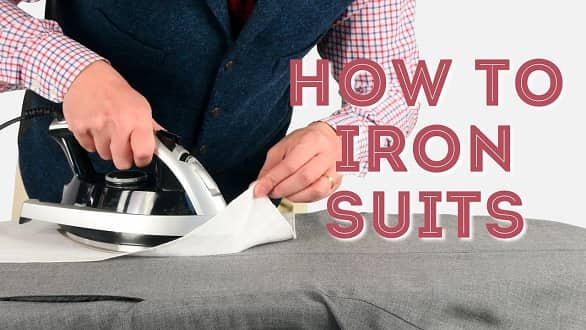 The answer is a big no. If you only wash and wear it next time, crinkles will not go because washing or dry washing doesn't help you in getting rid of the wrinkles present in the blazer or suit.
We sometimes get afraid and don't purchase the blazer or suit because of it's after-maintenance service. When you need to attend the conference meeting and you need to carry your blazer or suits, you are going for a destination wedding need to pack your blazer or suits but it may get crinkled or wrinkled and you need to iron it once again after reaching the destination.
Here are certain techniques that will help you in ironing or press your blazer or suits without delegating it to the dry washer or any vendor.
Step 1: Do checks whether your suit or blazer is iron safe or not – Depending on fabric or texture determine the iron settings.
Step 2: Sprinkle a few drops of water on blazer or suits – Dampening the blazer/suits helps in loosening the fibers and helps to make it flatter.
Step 3: Always choose a flat space or surface – A flat space or flat surface helps you to get out of wrinkles on the blazer or suit. It gives a proper moving space for the iron to move over the surface of the blazer or the suits.
Step 4: Divide the suits or blazers into different parts – Firstly iron the back section and then flip the blazer/suit to the front and then press the front surface of the blazer/ suit and going forward hung up the sleeves in a wooden hanger.
Step 5: Use a steamer or an iron – Be it a steamer or an iron it should at low or medium heat. As high heat will loosen the pores of the blazer and make the quality of the blazer/suits degrade in a short span of time.
Find more information in the following video:
Conclusion
Blazer/suits must be ironed in such a manner it doesn't get crinkled or the clothing gets wrinkled from time to time. Ironing or pressing is not so difficult; everything we do must be done in a proper sequence or proper manner so that we don't rework it.
Without proper knowledge, everything is hard work. So above mentioned sequence may seem a tedious or hard task, but practicing these will not only save your time but also may your blazer or suits look soberer.
Related Articles:
How To Iron A Cotton Shirt In 2 Minutes