Steam Iron Vs Dry Irons 2023 – Which One is Good to Buy?
It has never been so easy to press clothes in olden days. A few years back, there were no steam irons in the market. The only option available to people was to use a dry iron. With the improvement in technology, there was one new method of ironing introduced in the market.
This was steam iron. With the introduction of this new technology, it gained a lot of popularity among people. People also found that this iron is far better and effective in removing wrinkles from the clothes when compared to its counterpart.
If you are thinking of buying a clothing iron, then you always have the freedom to choose between a dry iron or a steam iron. The kind of iron that one chooses, depends on the type of application for which you need it.
In the same way, while selecting the right one for your job, you also need to consider a few factors and the things that differentiate them. In this article we will help you compare the differences between both these types of iron and, then choose the best one.
Water Tank
It is quite obvious from the name of the iron, that this iron does not have any water tank built in it. The absence of water indicates that there will no leakage and spits that can stain your clothes.
On the contrary, steam irons have a lot of complaints regarding water leaks. Sometimes, it even soaks up the ironing board or spits out dark-colored water on the clothes that are being ironed. So, in order to save yourself from all these issues, it is best to use a dry iron in place of a steam model.
Steam Holes and Steam Output
When you use a steam iron, it generates steam through the holes present on the soleplate. This happens to remove the creases and wrinkles on the clothes.
Such steam is not generated in a dry iron. As a dry iron has no water tank, it also does not have any holes for steam production in its soleplate. The entire soleplate is completely flat. It can be the ideal choice for people who are involved in art and craft jobs or sewing. The transfer of heat on clothes becomes easier by this method.
Complexity
As far as complexity is concerned, dry iron is the basic model that you can get in the market. It is very simple and less complicated to use. There is a knob or a dial to monitor the heat settings. A steam iron has got more whistles and bells in its entire design.
It even has a steam trigger, an LED display, a steam lever as well as a spray jet. People like this iron because of several inbuilt functions and affordability. But it can get more complex to work when you require to modify the controls for various different kinds of clothes.
The Soleplate
The next difference between a dry iron and a steam iron is the soleplate. The dry iron's soleplate is fully solid. Whereas the steam iron's soleplate has a lot of holes in it for the release of the steam.
Due to so many holes, steam gets generated over a large area. It ensures that wrinkles from clothes get easily removed. Also, there is no need for ironing clothes often.
The dry iron's soleplate is so easy to clean. Be careful when you are cleaning a steam iron. Ensure that the holes are not completely blocked as only,then a large amount of steam will get released.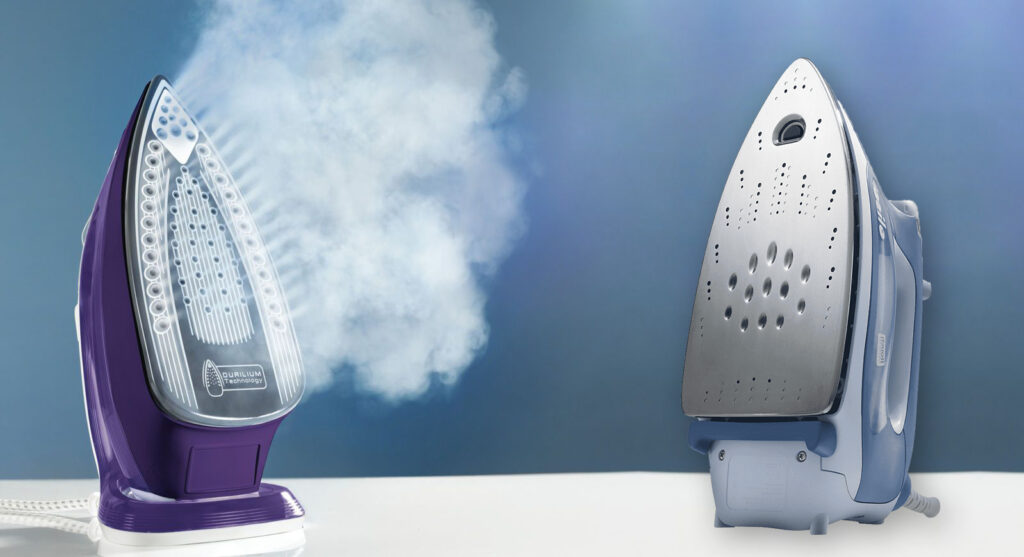 Spraying Mist
There are several steam irons in the market that provides the feature of spraying mist. It helps you to make your cloth a little bit moist. This makes it quite easy to remove wrinkles from your heavier fabric easily.
Steam iron ensures that you get the ironing done easily in a very short time period of time. Due to this reason, many people prefer to use a steam iron that comes with this spraying mist function. Whereas, if you have a dry iron, you will only have to apply greater pressure on the device to remove tough wrinkles.
Number of Features
Dry iron is very basic in terms of its functionalities and features. It is a very basic model that does not have many features built into it. To start using a dry iron, check the temperature settings. Steam iron comes with multiple setting options. Set the temperature in accordance with the fabric. This will make it a lot easier to use a steam iron.
A steam iron comprises a steam trigger as well as the LED display options too. This ensures that you can know the present settings of the iron. Multiple features make a steam iron complicated to use. It also implies that this iron offers you a more customized type of ironing experience.
Versatility
It is important to understand that the functioning of a steam iron is similar to a dry iron when you don't use the steam function. In that case, it is important to keep the water tank empty too. You need to set the temperature according to the fabric.
Fabric-like satin and silk need only dry ironing. So, for these fabrics, you can use your steam iron in the form of a dry iron. A dry iron can't function as a steam iron. Due to this reason, they aren't versatile. Also, as the features offered by a dry iron are limited, you can't customize it much.
Frequency of usage
The frequency of using a steam iron depends on its kind of usage. If you have to iron only a few clothes daily, then select the best dry iron. If you wish to save time incurred in ironing clothes, then you must definitely go for a steam iron. Steam iron makes it easier to iron a large bundle of clothes in just a shorter time period.
If you iron your clothes on a frequent basis, then steam iron will be highly beneficial for you. This iron ensures that different types of fabric can be easily ironed. With customized settings, you can easily perform ironing of any type of fabric easily, always prefer to buy a good brand of iron.
Check out some of the bestselling dry and steam irons in India in 2023:
No products found.
Related Articles:
Best Garment Steamers/Vertical Irons in India